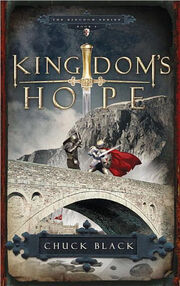 Kingdom's Hope

Book:

2

Series:

Kingdom Series

Author:

Chuck Black

Publisher:

Multnomah

Language:

English

Pages:

160

Followed By:

Kingdom's Edge

Media Type:

Print
Kingdom's Hope
Edit
Kingdom's Hope is the second book in the series and spans the time from Moses to Malachi. Again, the central characters are Leinad and Tess as they continue to discover their significant role in the Kingdom. From slavery to dragons and more, they learn to rely on each other and The King as they strive to restore hope to a war ravaged kingdom.
Characters✨👍✌️🤣😂
Edit
Fierce castle lords hold the kingdom hostage. But a champion is coming...

Fairos thought he had sentenced Leinad to death in the Banteen desert . But Leinad returns—a true Knight of the King. His skill with the sword is unmatched this side of the Great Sea and he is determined to free the people from their bondage to Lord Fairos .
Leinad 's quest takes him from the chains of slavery, near the jaws of dragons, and close to the arms of love. And when the rest of the kingdom turns away from The King and The Code , Leinad turns to his most faithful ally, Tess . With her help, Leinad struggles to conquer his own doubt. But he must do so soon, for The King 's archenemy, the Dark Knight , is about to unleash his entire evil force, and only Leinad can stop them...
Journey to Arrethtrae , where The King and His Son implement a bold plan to save their kingdom; where courage, faith, and loyalty stand tall in the face of opposition; where good will not bow to evil; where the future of the kingdom is at the threshold of either victory or defeat—and one man holds the key.
Information
Edit
• Released on May 1st 2006
• 160 pages
• Subjects: Youth/Youth Interests/Teen Fiction
• Interior illustrations by Marcella Johnson
• 12 Chapters (14 counting the Prologue and Epilogue)
Prologue - Trek of Deliverance
Chapter 1 - A Call for Freedom
Chapter 2 - Hardened Heart
Chapter 3 - Broken Chains
Chapter 4 - Exodus
Chapter 5 - The Code
Chapter 6 - Camelot Years
Chapter 7 - Kergon and the Kessons
Chapter 8 - Kergon's Captives
Chapter 9 - Into the Jaws of the Dragamoth
Chapter 10 - The Regathering
Chapter 11 - The Promise
Chapter 12 - A Future Hope
Epilogue: - Of Battle and of Peace
Dedication
Edit
"I dedicate this book to my future grandchildren. Your place in my arms is waiting."